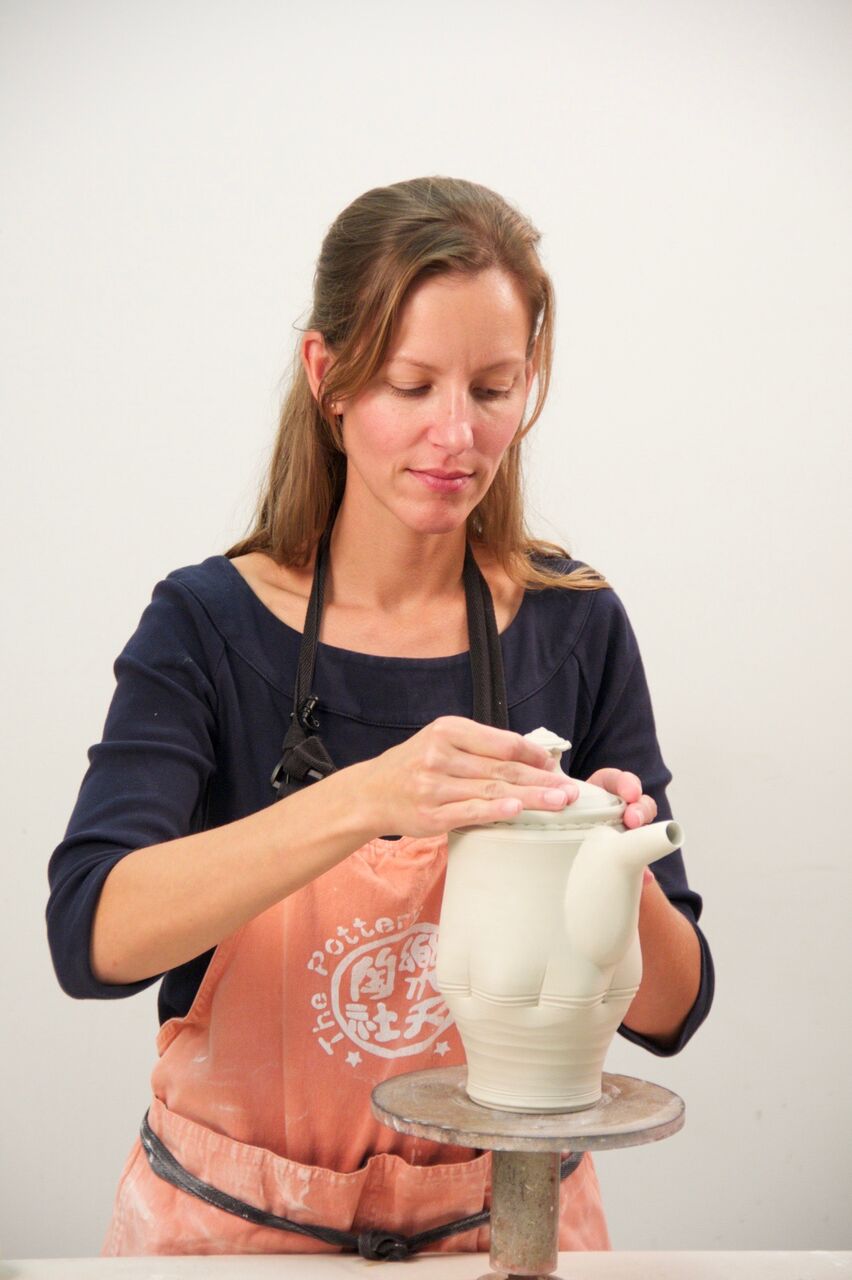 The Complete Guide to Mid-Range Glazes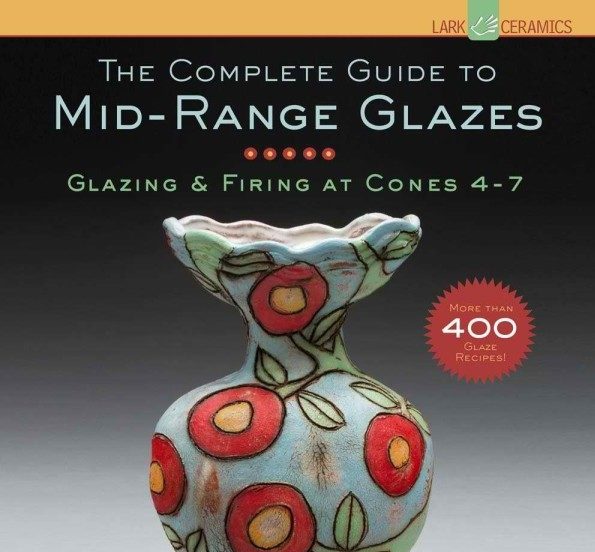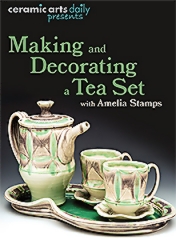 "Making and Decorating a Tea Service" is an instructional dvd produced by Ceramic Arts Daily. In this video six forms are demonstrated: a cup, saucer, creamer, sugar jar, teapot, and tray. These forms cover the spectrum of important throwing skills a potter needs to develop, from throwing off the hump to pulling handles off the pot. Within each form, there are great ideas for increasing efficiency while throwing, and for creating formal elements that relate from one piece to another. 
BRIMFUL : Ceramic Cup Invitational Exhibition at Thomas Gallery, IU East Campus
Annual Holiday Studio Sale at 117 Elam Park
My work can be found on occasion at these online clay galleries:
And also featured in these fine craft galleries: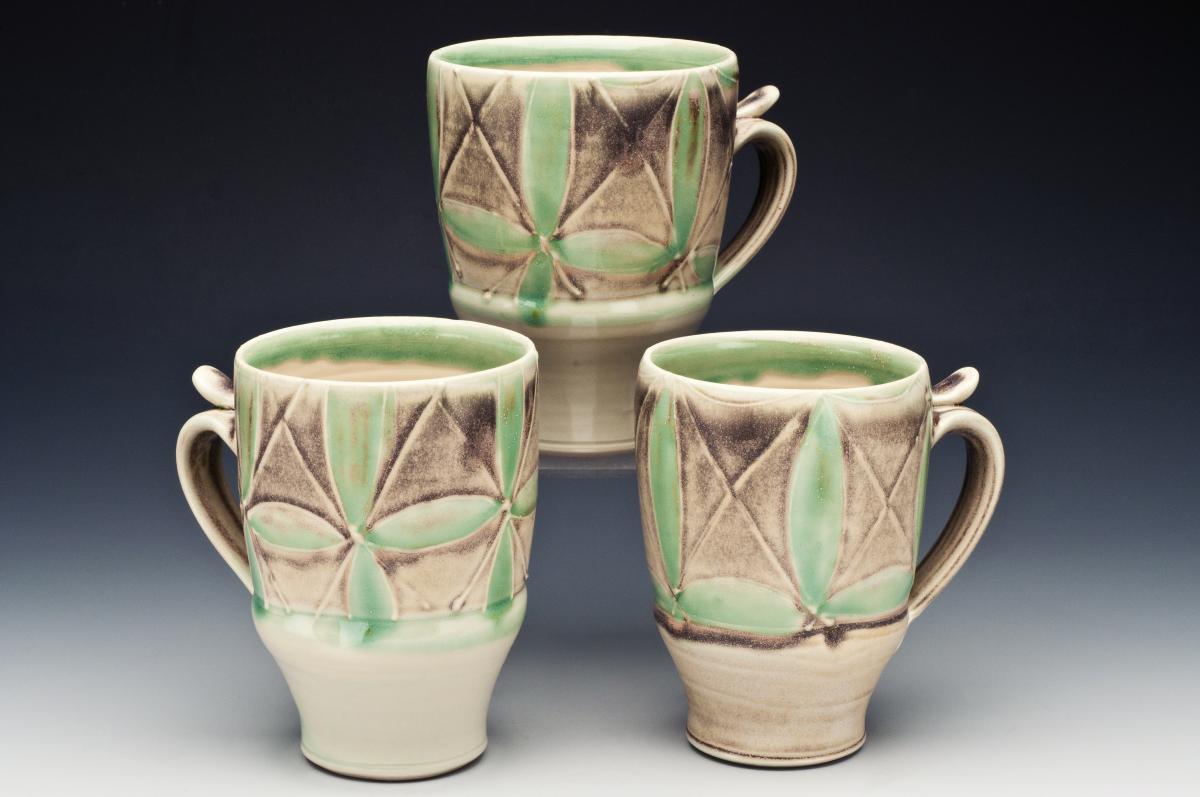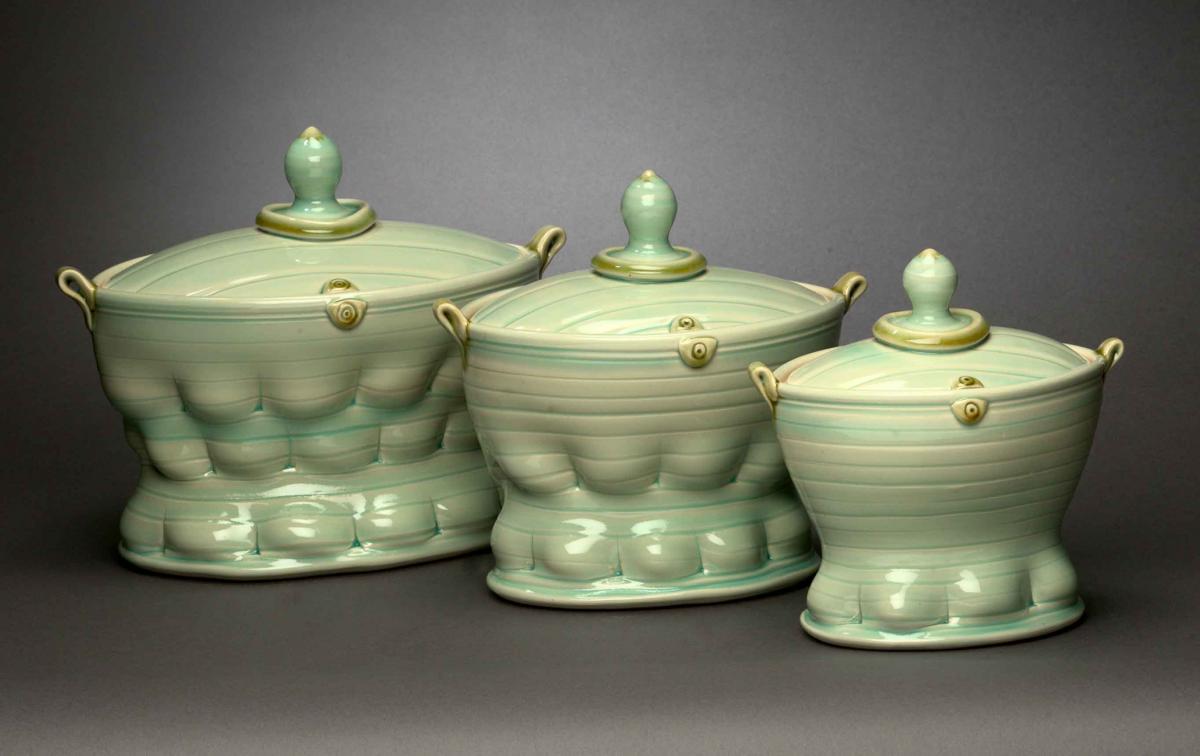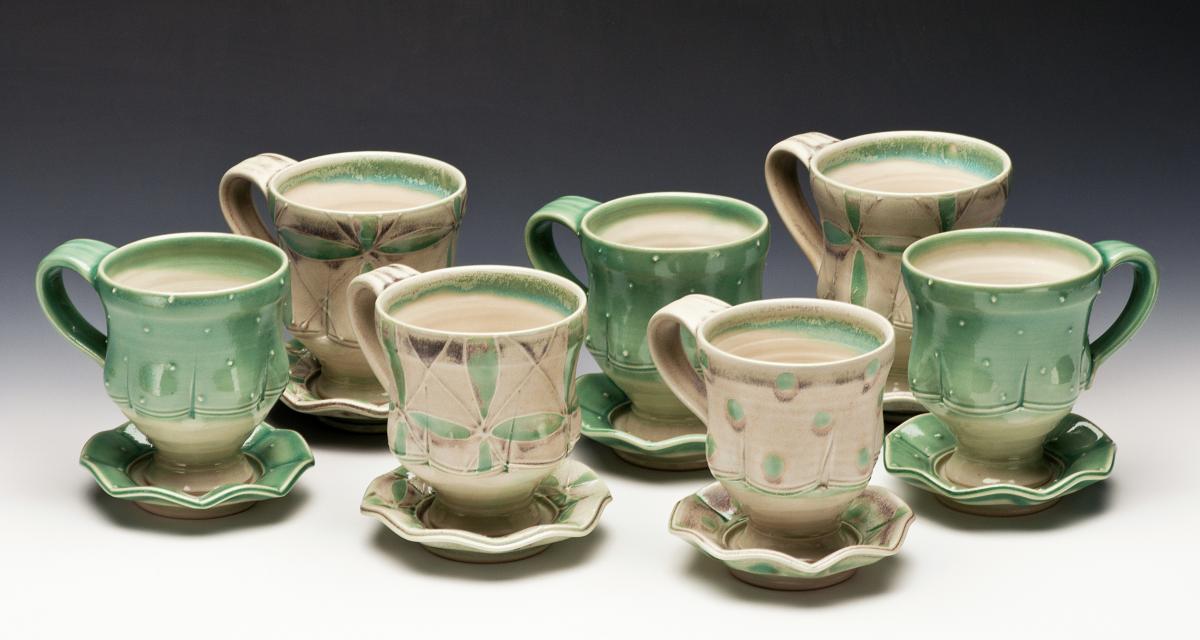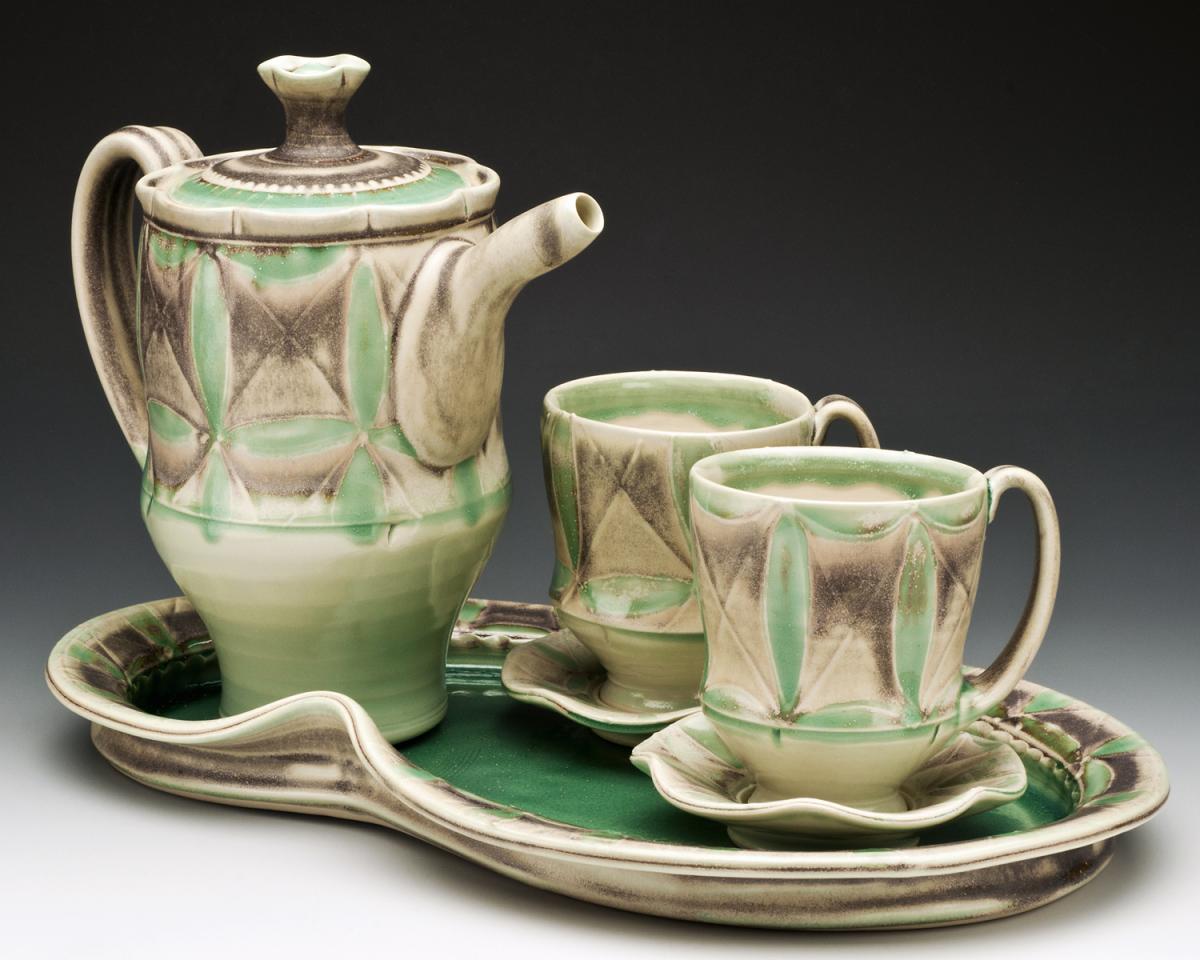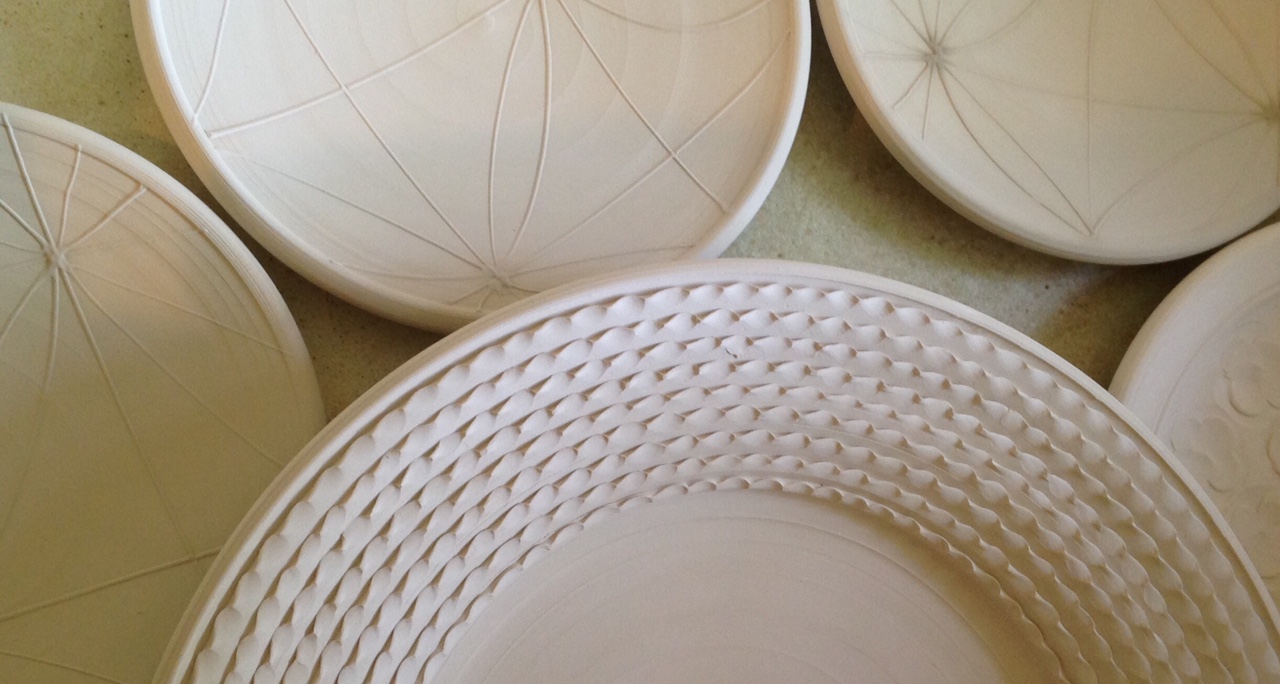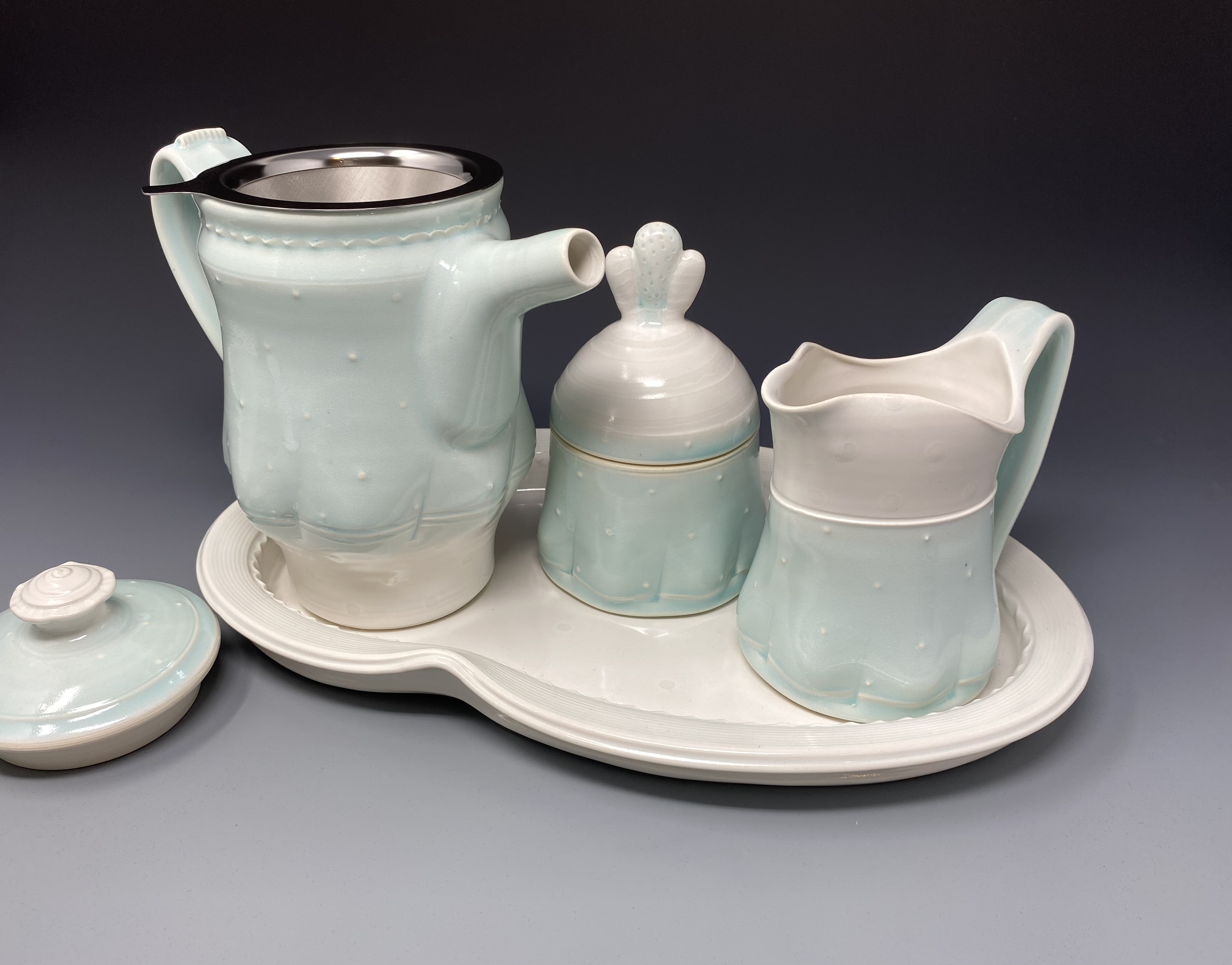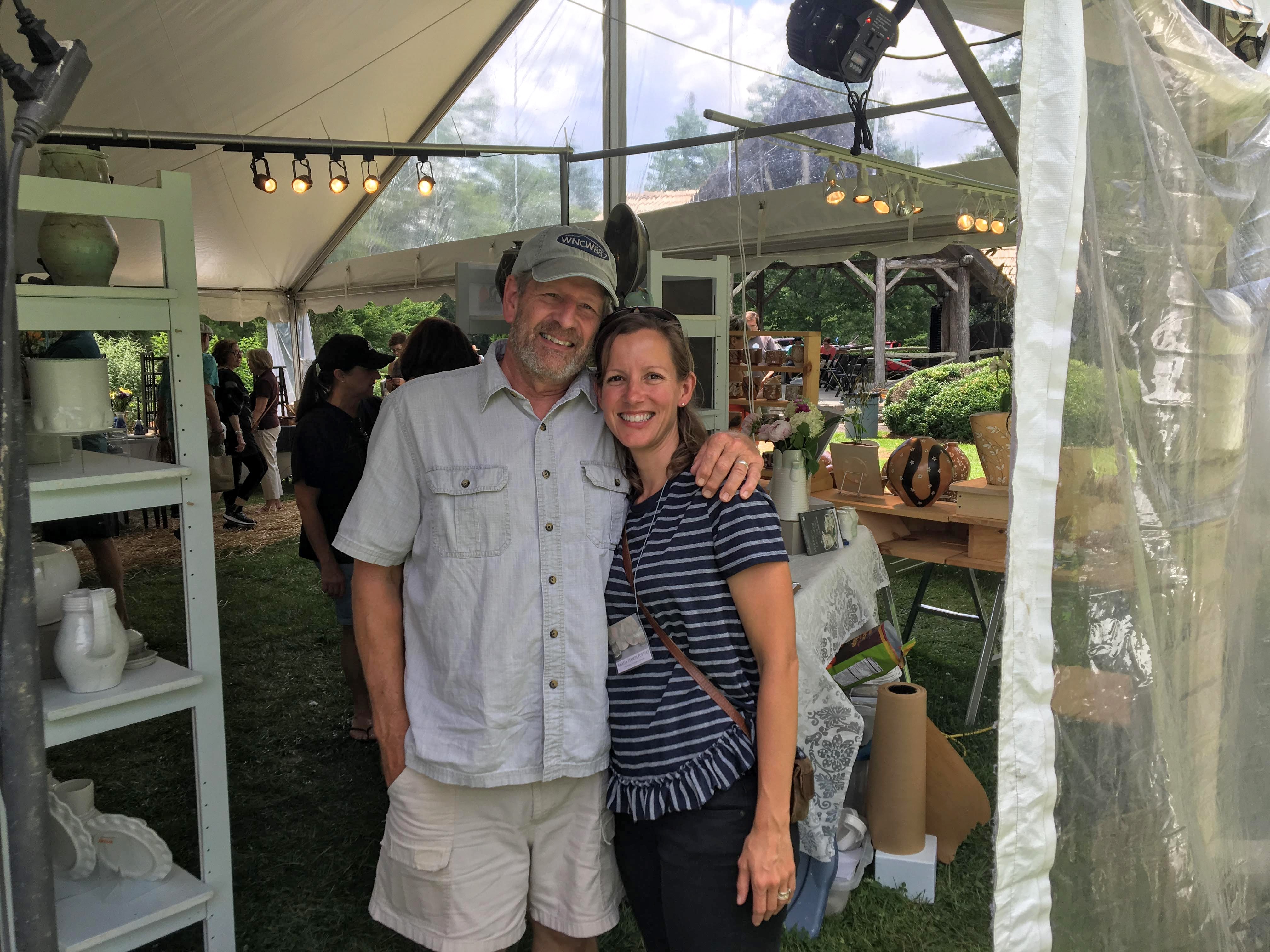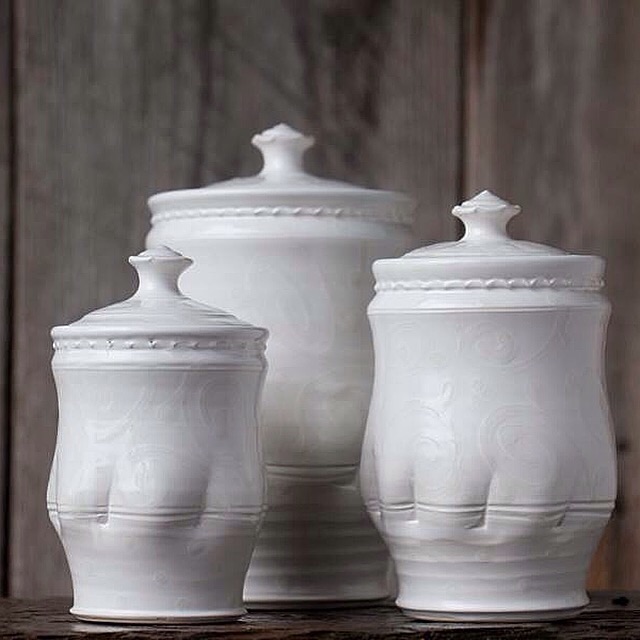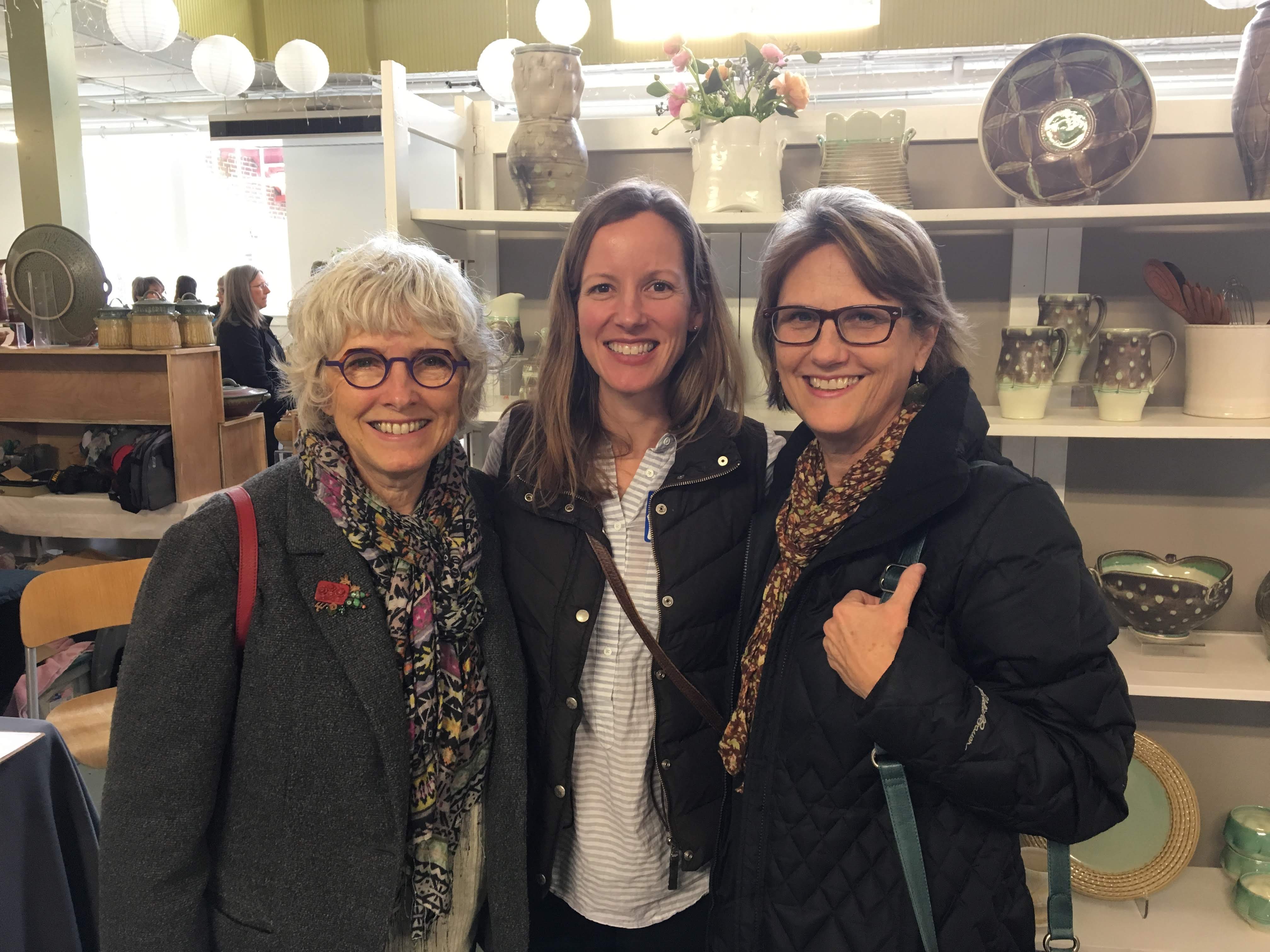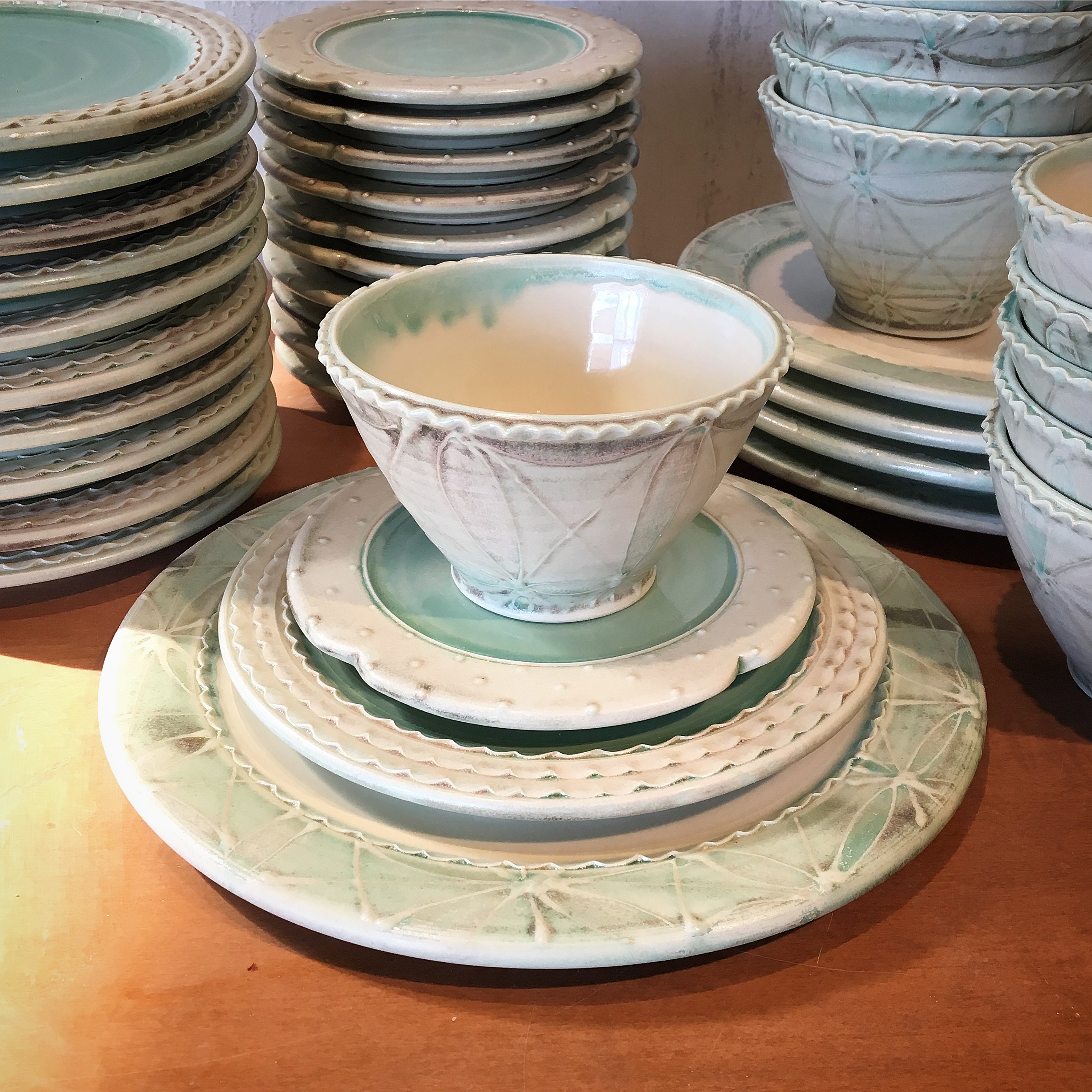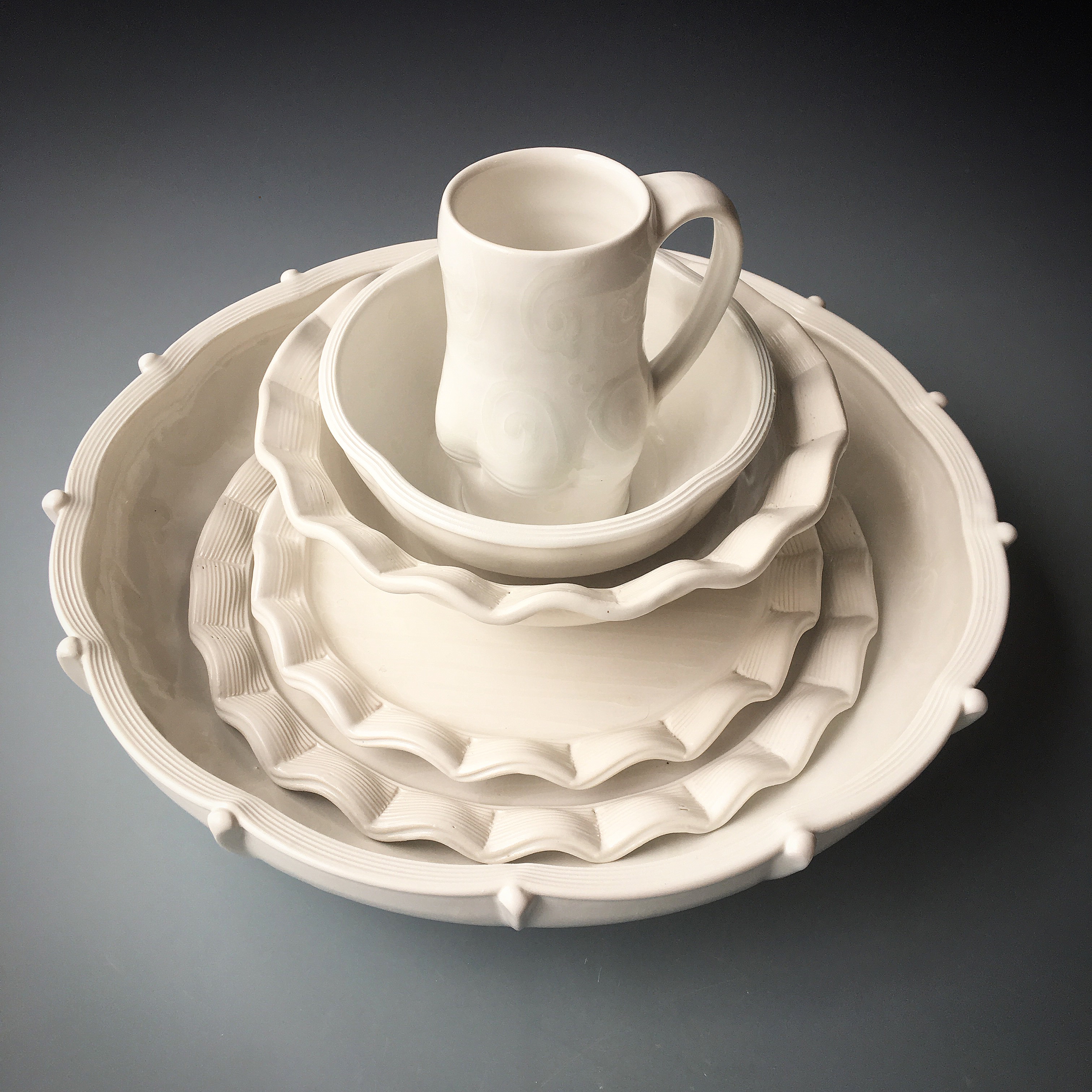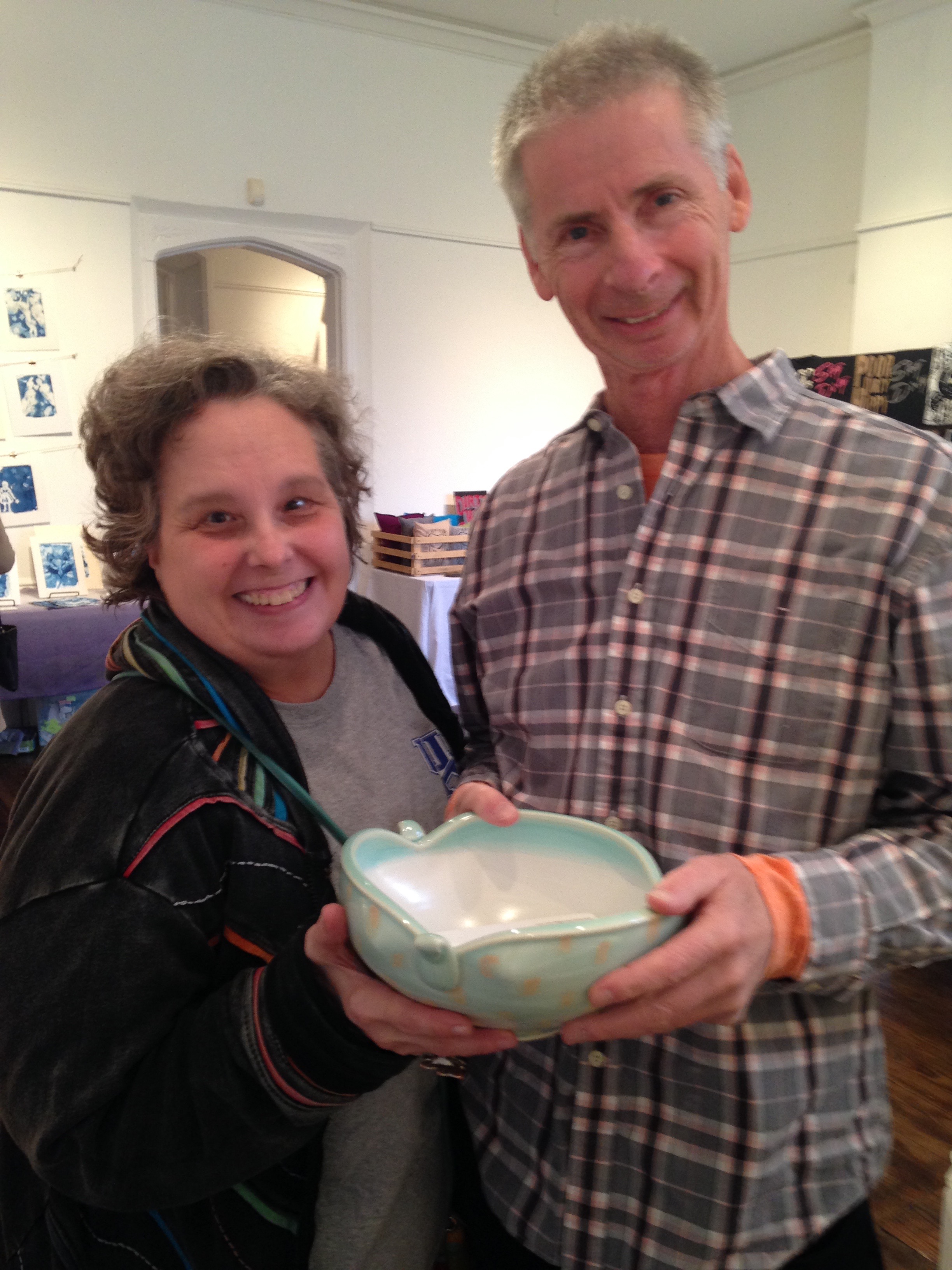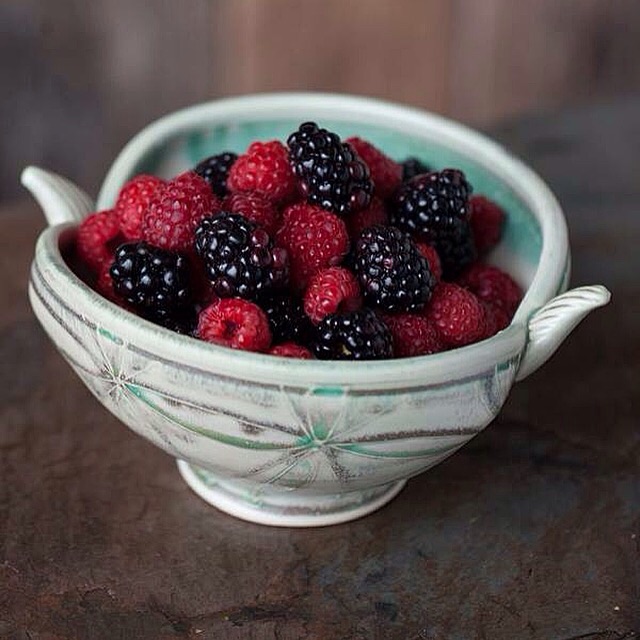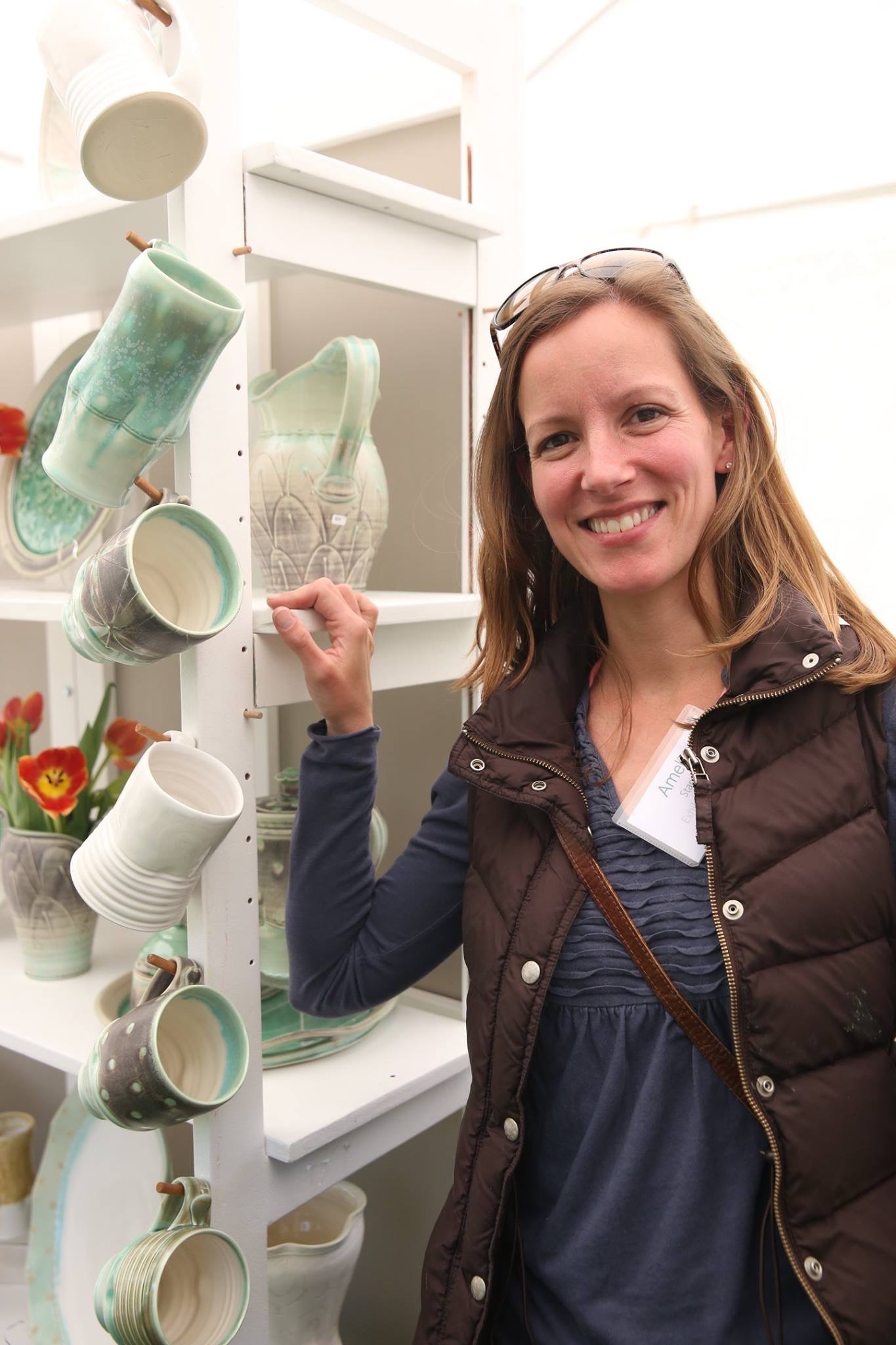 Growing up in a family of artists has taught me to appreciate the handmade object. My parents both worked in clay when I was very young. I grew up using their pottery in the home and it inherently became something of great importance. I am interested in not only the nostalgia of ceramics, but also of clay as a material of expression. In college I wanted to further my knowledge of clay so I spent most free hours of the day in the studio, attending workshops and working for different potters. By surrounding myself in this atmosphere I was able to further support my passion.
I find a great sense of pride in being a potter because I can carry on the tradition of working with clay while expressing my love for handmade ceramics. I believe that crafting well made objects holds a deep meaning to those working with their hands. We rely on the material to translate an inner language. It is a language of patience, diligence, contemplation and expression. I want my work to communicate these ideas, as well as, speak of the sensualness of clay as a material. My concentration rests on making utilitarian forms that which holds the users attention, even if for a moment.
In 2002 I received a BFA in Ceramics from the University of North Carolina in Asheville. After completing college I began working in my own studio, 'Stamps Pottery'. I received several artist grants to help with the purchase of studio equipment. My work cycle revolves around exhibiting in retail and wholesale shows, online gallery sales and commissions. 
My husband Hunter Stamps, two daughters and I happily call the bluegrass of Kentucky home. Much of the year you can find us teaching, making work, and traveling to craft shows in the region. Please check out my show schedule or the gallery list to find more of my work. If you are a student aiming to learn more about my throwing techniques you can find an instructional DVD through Ceramic Arts Daily.
Riley / Caldwell Registry
All pieces are made to order and will be picked up by the bride and groom after wedding celebration.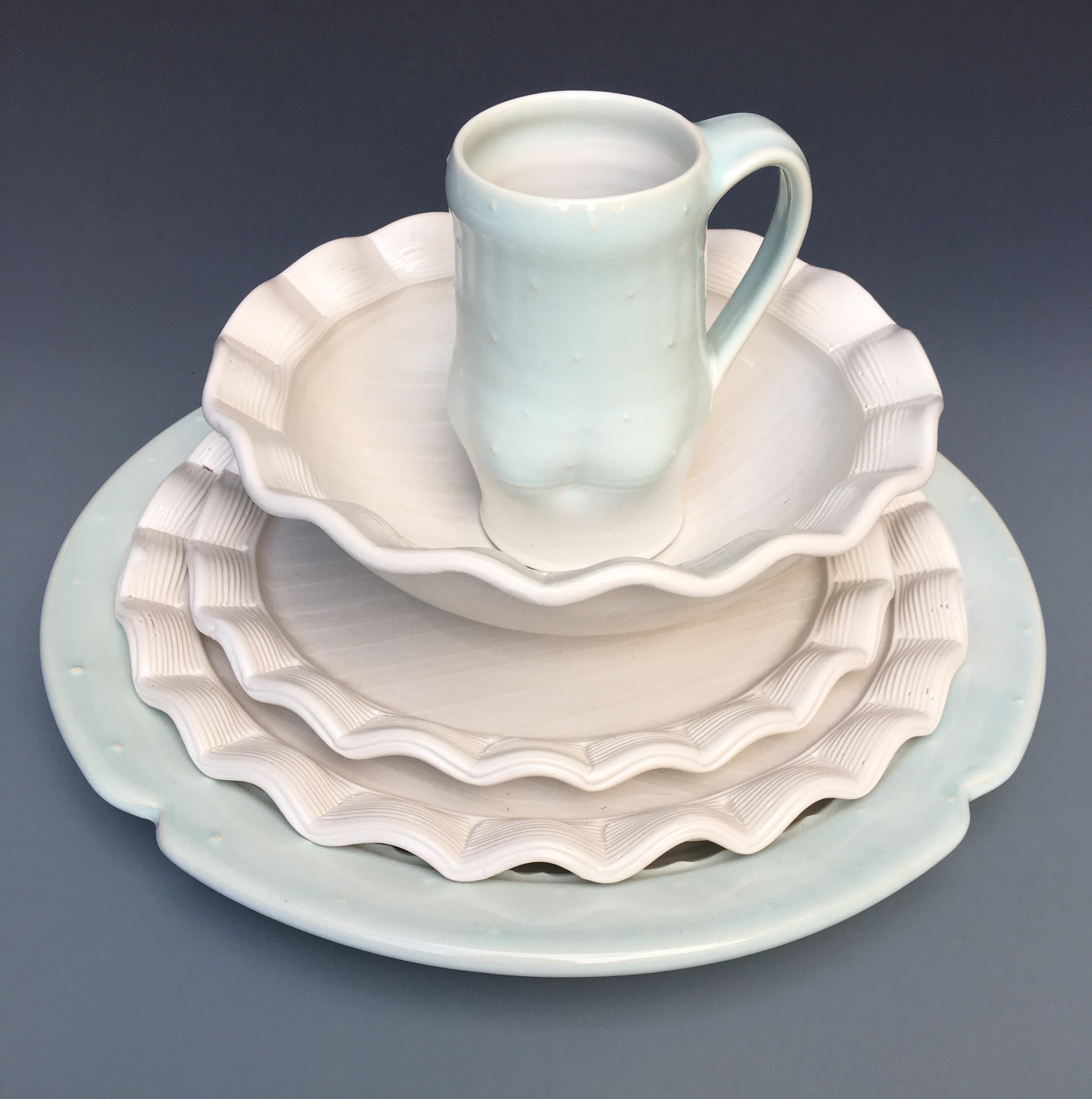 12 Place Settings 
(11 SOLD - 1 Left )
$140 each 
Includes: Large Dinner Plate, Salad Plate, Cereal Bowl
Handmade Porcelain, Celadon and White Glaze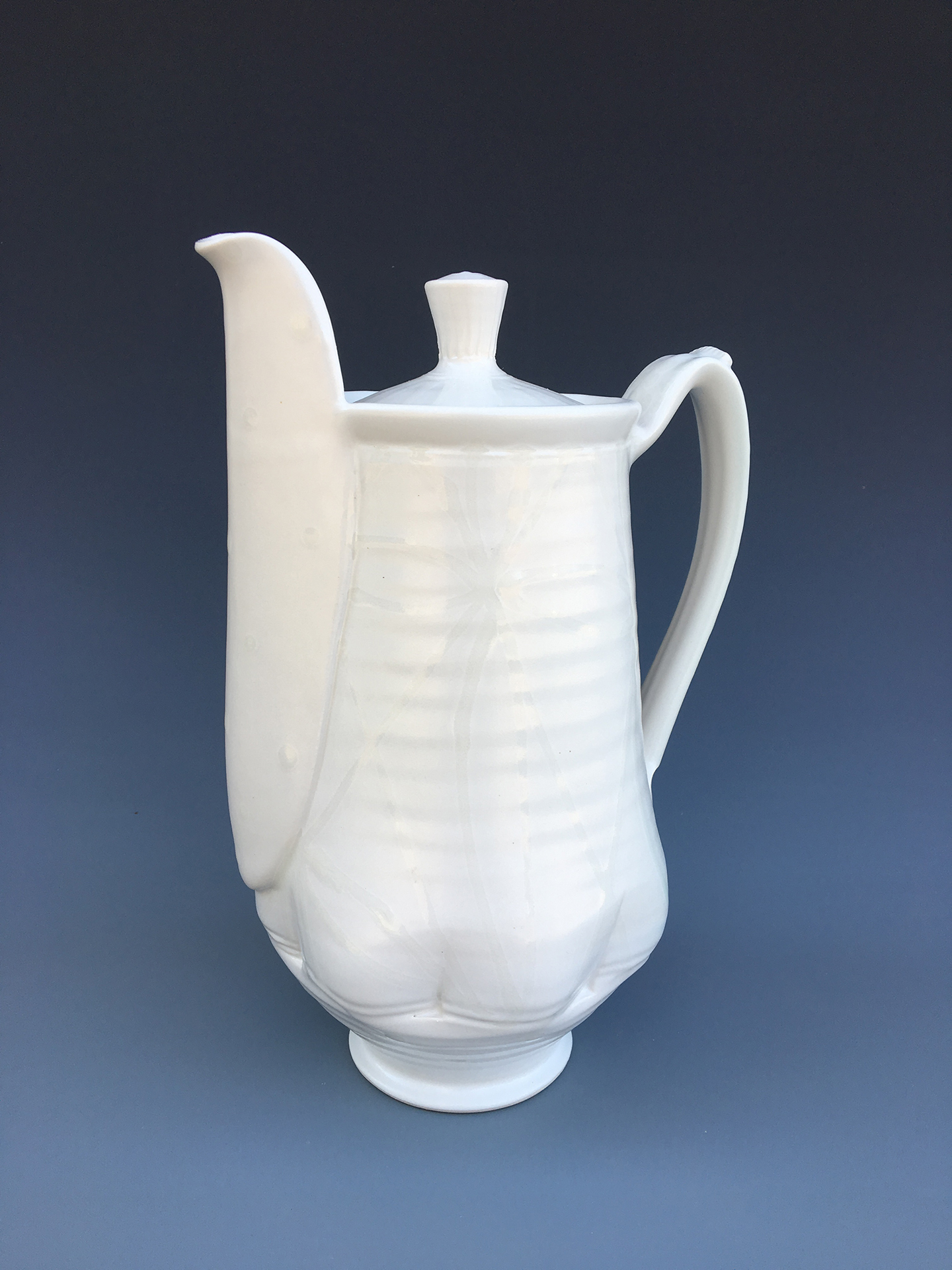 Large Pitcher - SOLD
$95
Handmade Porcelain, Celadon and White Glaze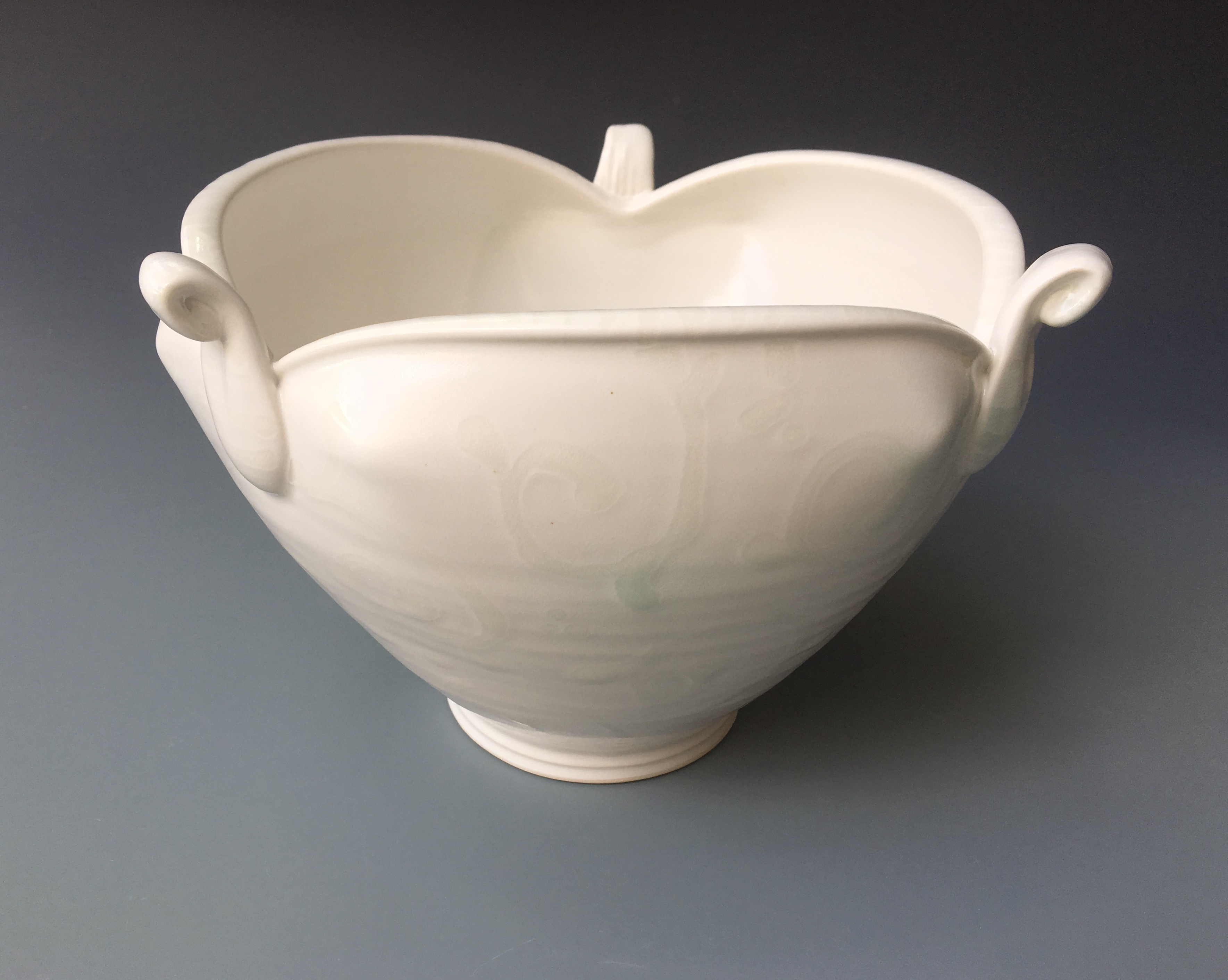 Double Sided Serving Bowl - SOLD
Double Sided Serving Bowl - SOLD
$98
Handmade Porcelain, Celadon and White Glaze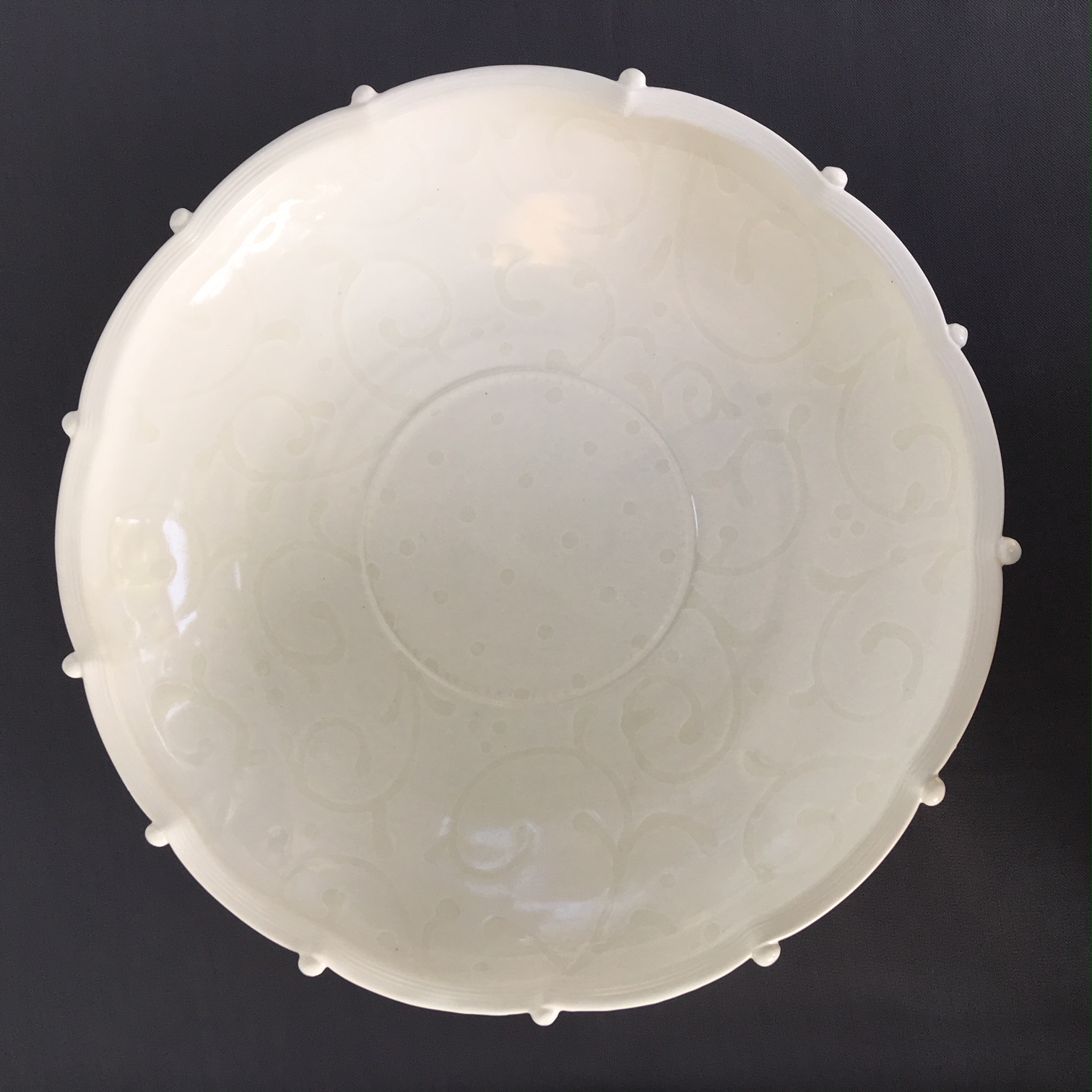 Serving Bowl Set of 3 - SOLD
$250
Handmade Porcelain, White on White Glaze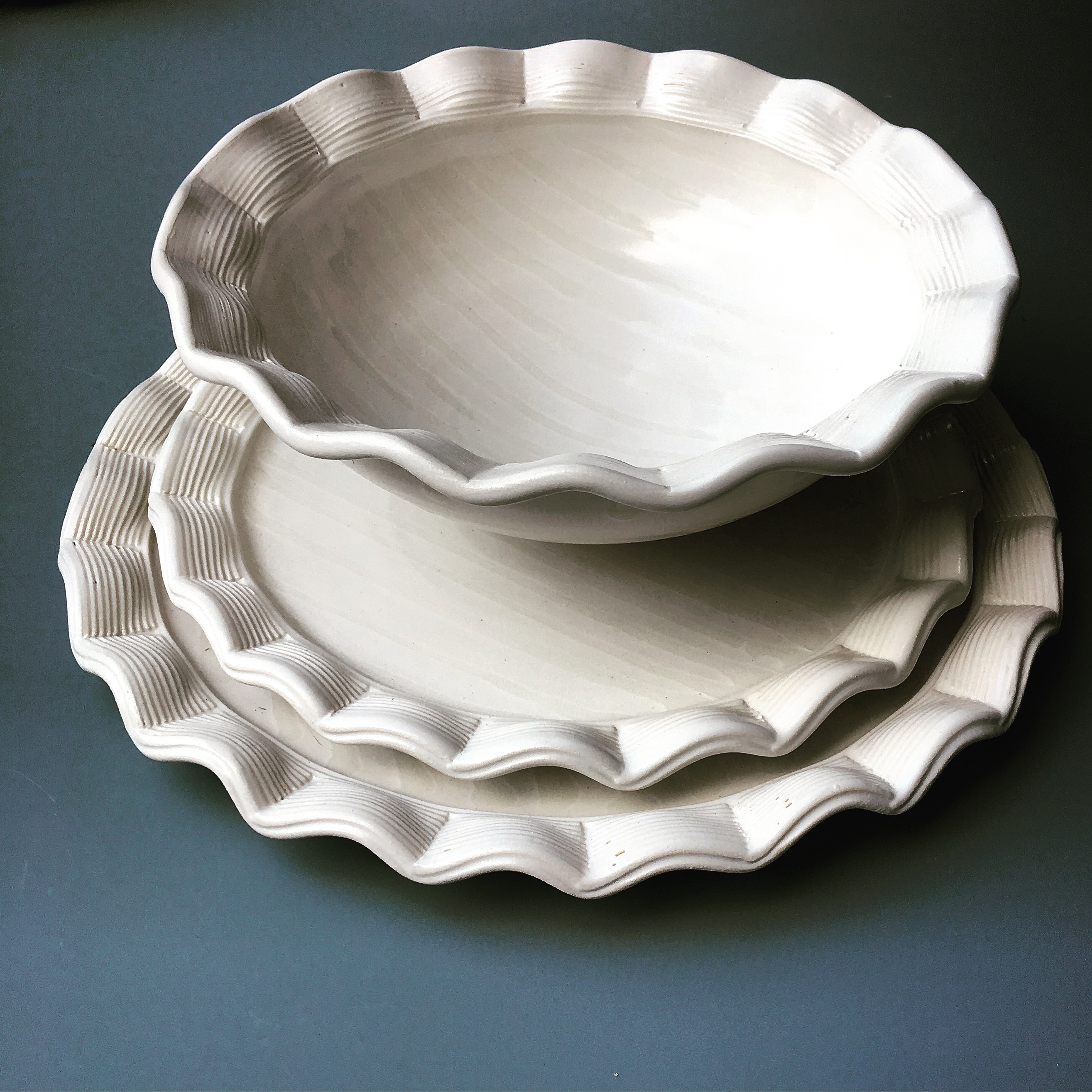 4 Pasta Bowls- SOLD (All 4)
$45 each
Handmade Porcelain, White on White Glaze, Woven Pattern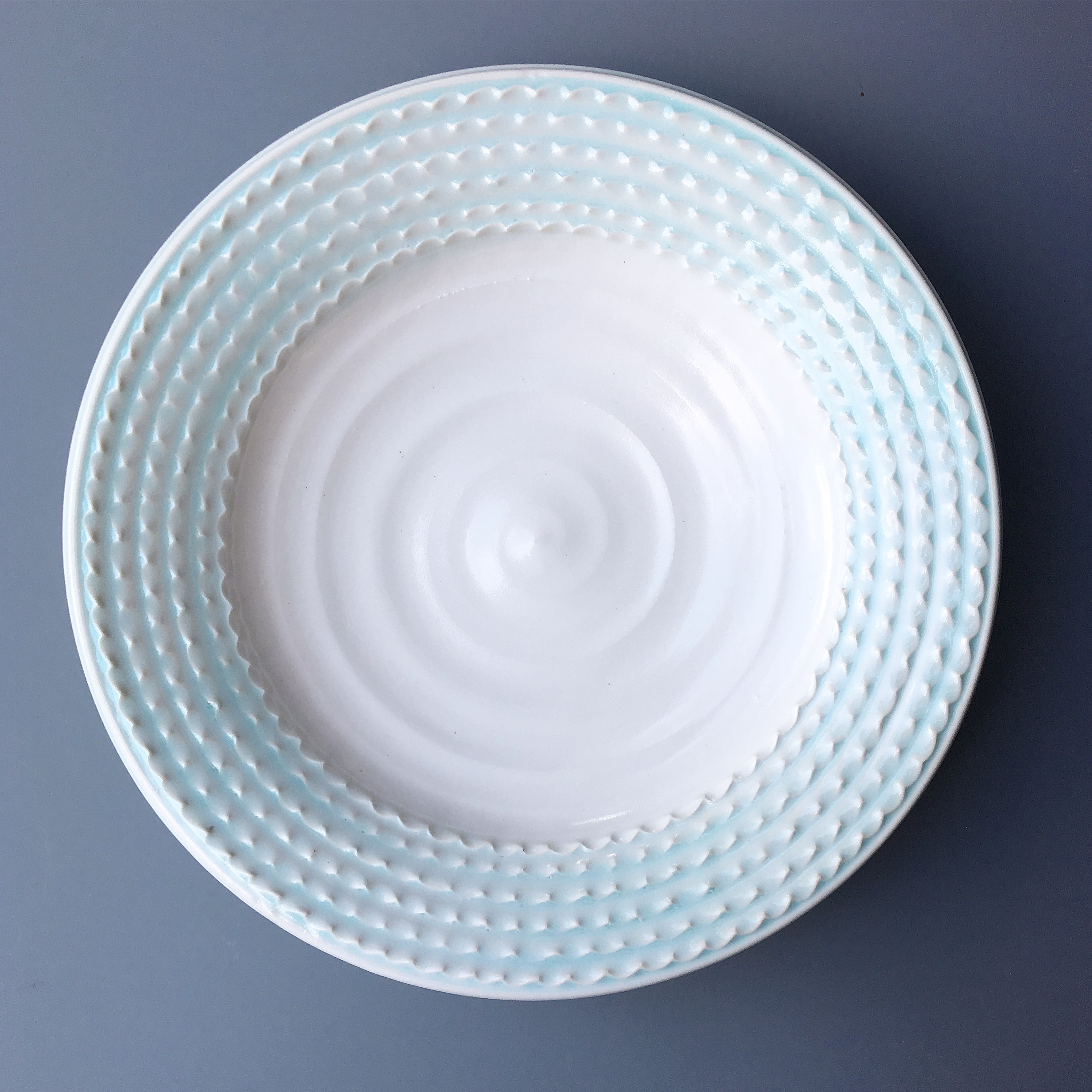 Small Oval Serving Platter, 12'' - SOLD
Small Oval Serving Platter, 12'' -SOLD
$110
Handmade Porcelain, Celadon and White Glaze, Petal Rim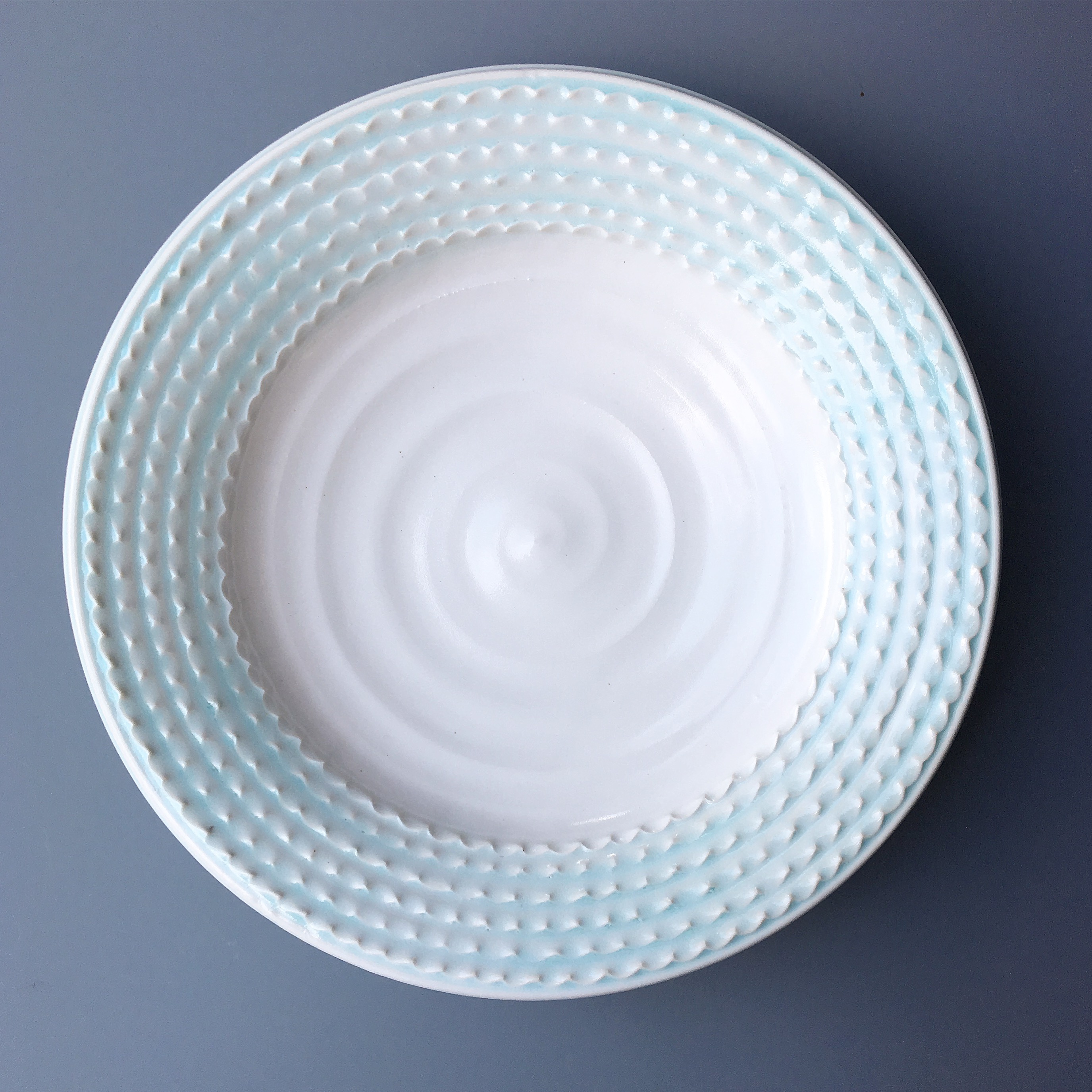 Large Oval Serving Platter, 18''
Large Oval Serving Platter, 18'' 
$140
Handmade Porcelain, Celadon and White Glaze, Petal Rim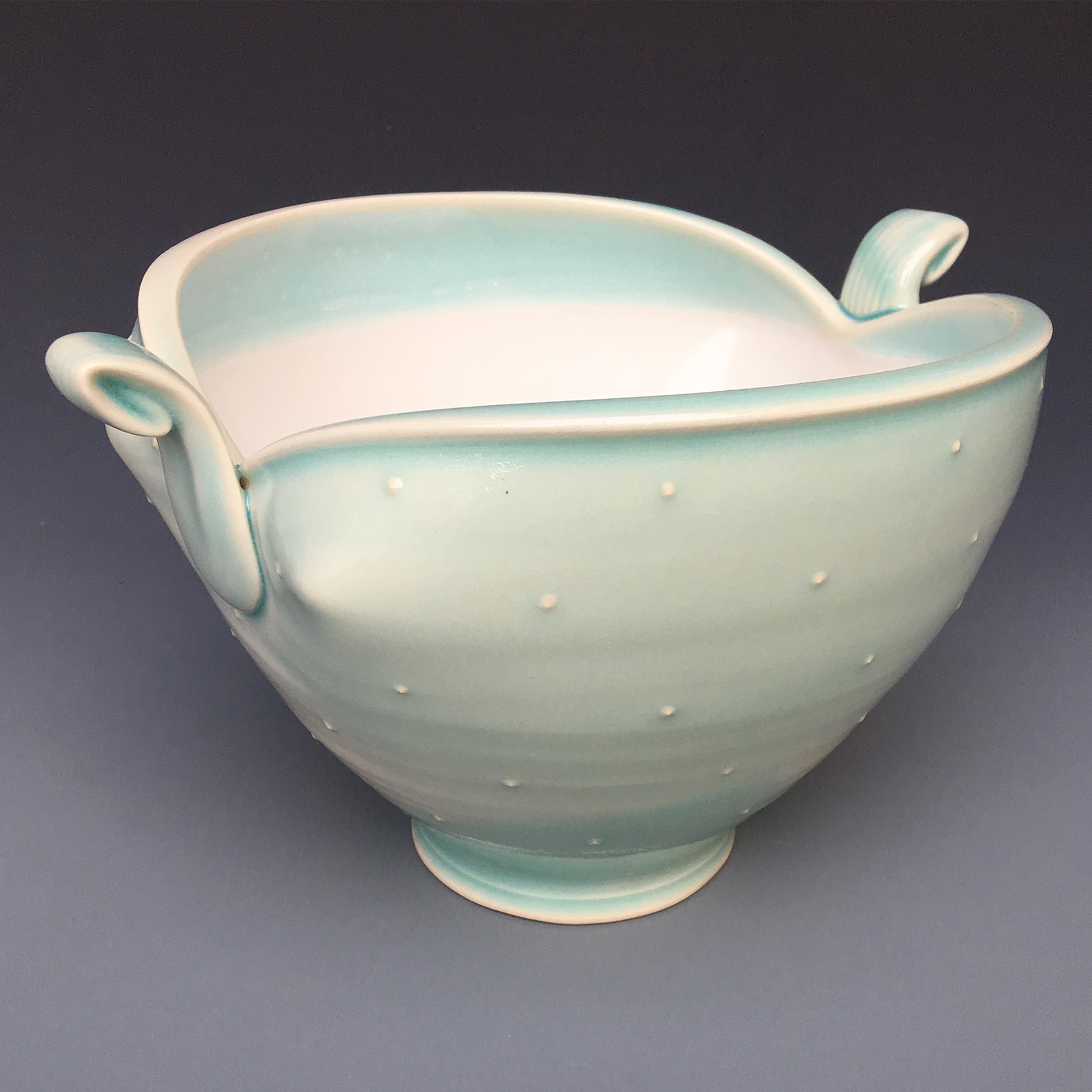 Medium Serving Bowl - SOLD
Medium Serving Bowl -SOLD
$80
Handmade Porcelain, Celadon Dots and White Glaze